About Balti House
Over 20 years of traditional cooking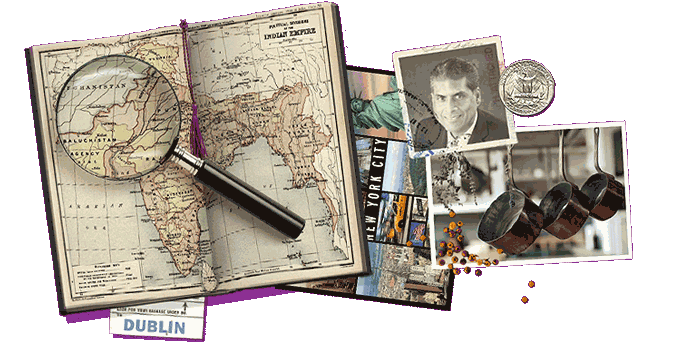 Our Story
Hyat Syed, owner and founder of Balti House, is a native New Yorker who moved to Dublin in 1996 to take over the family resaurant business. While the restaurant was doing well, Hyat liked the idea of making authentic, restaurant quality, Indian dishes accessible to people who love Indian food but who don't have the time to prepare and cook it in the traditional way. The Balti House range of convenient, ready-to-eat meals was born.
Quick Guide
A rough guide to Punjabi cooking
Punjabi cooking is from the Punjab region of northwestern India and eastern Pakistan. One of the main features of Punjabi cuisine is its diverse range of dishes. Many of the most popular elements of Anglo-Indian cooking such as Tandoor, Naan, Masala and Rogan Josh, derive from the Punjab region. Punjabi foods include a lot of spices like cardamom, cumin seeds, black pepper, cloves etc.
PUNJAB REGION
Punjabi cooking is from the Punjab region of northwestern India and eastern Pakistan.
SPICES
Punjabi foods include a lot of spices like cardamom, cumin, seeds, black pepper, cloves etc.



Korma

The word Korma in Persian derives from the Turkish verb for roasting/grilling of Azid (Kavurma). Korma has its roots in the cuisine of modern-day India and Pakistan.




Biryani

The word Biryani is derived from the Persian word 'Birian'. In Farsi, Birian means 'fried before cooking'. Biryani originated in Persia and it is believed that it could have come from Persia via Afghanistan to North India.




Rogan Josh

Rogan Josh a traditional Indian dish, originated in Kashmir and is where the first Kashmir adoption of Rogan josh occurred. Rogan Josh comes from two words, Rogan in Persian means clarified butter and Josh means hot and passionate. It is therefore meat cooked in chillis and spices with clarified butter.




Jalfrezi

Jalfrezi is not a traditional Indian dish as such but is actually a method of cooking. It literally means 'hot-fry' but is probably better translated as 'stir-fry'.
Our Ethos
Why we're different...

OUR WAY OF COOKING
When you taste one of the Balti House ready meals, the difference becomes clear. Our dishes are prepared by a team of artisan chefs who are passionate about Indian food and only use traditional cooking methods. All our dishes are prepared using only natural ingredients and as such contain no harmful additives or preservatives found in other ready meals.
OUR MEATS
All our meats are sourced locally and are prepared by hand. We believe that good food is all about using quality ingredients and cooking in the traditional way with no compromises. We use only the finest cuts and that's why we insist on the highest standards of animal welfare and hygiene from our suppliers. The result is in the succulent taste of all our meat dishes.
OUR SAUCES
Sauces are hand-prepared from a base of tomatoes and onions and cooked for six hours using only the finest, authentic ingredients with no artificial preservatives or additives of any kind. This gives our dishes a lovely rich texture, full of flavour and spice...perfect accompanied with our Balti House rices. Restaurant standard in the comfort of your home.
News
What's happening in the world of Balti House
Regular Updates
Check in with us on a daily basis and we'll keep you up-to-speed with all the latest news and offers from Balti House!